Finished Vintage Velvet
I've now finished my second scarf from this book. Here are some pics and details.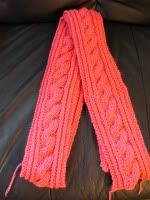 It's not really as short as it looks. I just doubled it over to get it in the pic. It's actually over 80 inches long.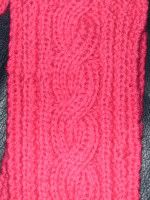 This was my first cable pattern. I went with a differnt yarn instead of what the pattern called for. I used Knitpicks Palette in Palette. I used four balls in total, but I double-stranded them. So obviously I didn't do the felting, or part felting called for in the pattern. I really liked this pattern and am thinking about making one for myself.
Labels: Vintage Velvet