Big Ene Problem. Boo.
First, a hello, and a thank you to Tipper for sending me the invitation!
Now, the business - I am very close to the end of Ene....and I am running out of yarn! I am about halfway through the last repeat of Chart 3, so I still I have half of that left and all of Chart 4, and this is what I am working with: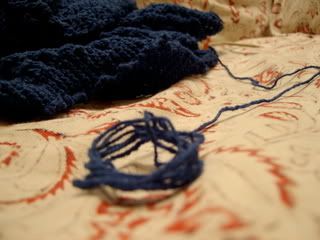 I am using the recommended Blackberry Ridge laceweight. (And do not know the dyelot - lesson learned...hopefully what I get will not be too drastically different.) I am baffled as to how this has happened. This is the first lace I have ever done - am I discovering that I am a loose lace knitter? Ususally my gauge is pretty spot-on, and I haven't wasted any of the yarn ripping out, etc.
I realize there's not much anyone can tell me that will really fix the problem. Maybe I just needed to share with people who would feel my pain :)