Vintage Velvet post-felting & advice for those in doubt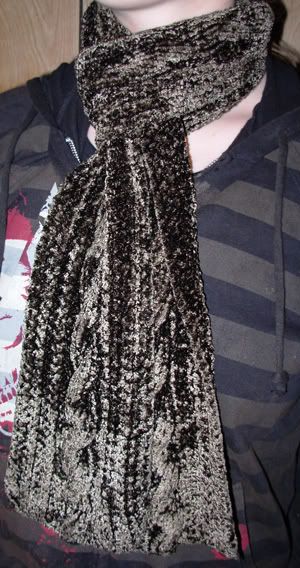 As promised I got some pictures taken of my Vintage Velvet scarf post-felting. It's hard to get a decent picture of it, but the two of me wearing it came out almost perfect. :)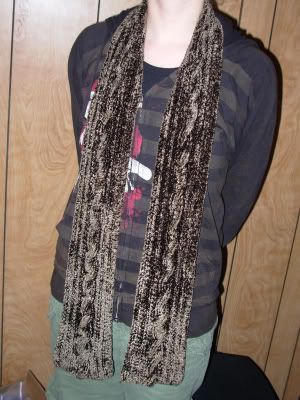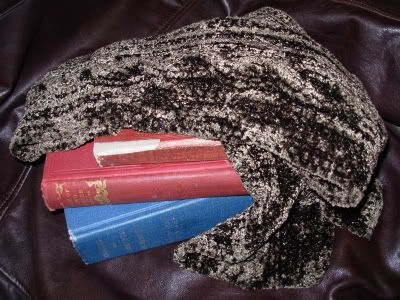 And because I believe in helping others out whenever possible, if anyone is reading this and contemplating making either this scarf or another piece in Touch Me and is afraid to throw that plush, sinfully soft yarn in the washer and dryer, fear not!
Your gorgeous scarf (or shawl, blanket, top, what have you) will look bad when it comes out of the washing machine. Really bad. Brace yourself. Your piece will be matted and rough and bear more than a passing resemblance to roadkill (sad but true).
It won't look like the gorgeous piece you put in the washer and it won't look much better once it comes out of the dryer (let it dry until it's damp and then air dry it, stretching it gently every now and then), but have faith. It'll most likely take a few days and a couple of trips through the dryer on low heat for 10 minutes or so at a time over the course of those few days to get it dried completely, but once it's had a chance to dry completely and relax after its long journey through the felting and drying process it will be gorgeous.
As it dries, it loses that roughness and dullness and regains its softess and shine, but the stitches will be shrunk down so that it looks like well cared for vintage velvet (the name of the pattern is dead on accurate) rather than the beautiful, but clearly knitted piece that went in.
What I'm trying to say is: Have faith. Felting this gorgeous (and rather expensive) yarn isn't necessarily an easy step to take, considering the beauty of the piece pre-felting and the price of the yarn should it turn out badly, but believe me, it's worth it.
Labels: Vintage Velvet