Lady Eleanor anyone?
So, I got home from Yarn Yoga Friday & decided that I had had enough of Ruffles for a while. So, I'm done with that particular scarf. Too many other projects that I just HAVE TO make. I made a list of them today & it's in the double digits, with most of them already started in some way.
Anyway, Saturday turned out to be fortuitous. In the mail was none other than my uber fabulous Silk Garden order from Woolneedlework.com!!!!! =)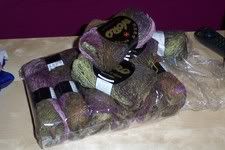 So, you know what that means...LADY ELEANOR can be started!!!!!!! I was very excited over the prospect. Anyway, I CO Saturday evening, then re-cast on...then re-cast again...Apparently I wasn't grasping the whole Entrelac process. So, i put it down for the night...Sunday morning, i decided that I would start fresh...it helped, i guess...i only had to rip out 2 or 3 more times before i finally GOT how it all worked. So, this is my progress after working on it on & off Sunday. I'm a bit farther now, but no new pictures. I can tell you I'm LOVING it, though! I love the color & Entrelac is growing on me. I'm already planning to make one for a Christmas present.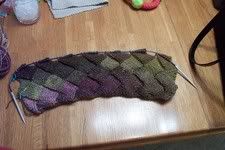 Happy Knitting!!!
Labels: Lady Eleanor