ruffles!
i am so loving this ruffles scarf. i'm doing it with peruvian collection highland wool from elann in the "russet" shade. this is my first experience with the whole wrap and turn phenomenon, so i'm enjoying it and find that it is great mindless knitting to do while watching turner classic movies. woohoo!
here's a wip shot, albeit a not so very good one: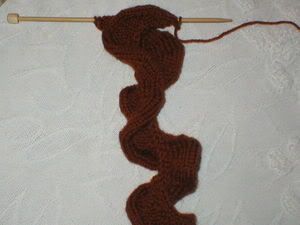 this book is just a treasure trove, and i'm a-divin' in!
Labels: Ruffles Scarf